Discover how this Sunbury resident built his ultimate 'man-cave pod' with veranda to enjoy his hobbies in his backyard on a low budget. You won't believe the atmosphere created inside by the proud owner with his collection of pinball machines and eclectic vintage items.
Dave's loving wife gave him an ultimatum: "Get your pinball machines out of the house or else!" So, Dave embarked on finding a way to enjoy his vintage amusements with his mates and kids, without disrupting the household. His need to build the ultimate 'man-cave' eventually led him to Backyard Pods.
Why flat-pack kits from Backyard Pods were the best choice
Dave had explored several options, such as getting a shed on a concrete slab and even converting a shipping container. However, access to the backyard was limited. It wasn't practical to hoist a shipping container or prefab building over the top of the house by crane, and the only access was through a single two-way garage (see site plan below). Dave soon decided that using a flat-pack modular building kit was the most logical and economical choice, as each piece could be carried through the two-way garage into the backyard. Dave boasted, "I'll put on some beers and a few snags and my mates will move the materials in an hour or less."
How Dave's backyard building plans were properly approved
Along with housing Dave's pinball machines and neon light collection, he wanted his man-cave pod to have a well-stocked bar, powder room (toilet and handbasin), plenty of floor space, and double French doors opening onto a veranda. He paced it all out and soon reckoned that a 4m x 8m Backyard Pod Kit with a 2m x 4m Veranda/Deck Kit was the way to go. Dave's design idea was to be 'quintessentially Australian' in ColorBond® Ironstone with custom timber details for rustic charm.
Dave's next consideration was planning the position of the pod in the backyard, his block of land being an unusual parallelogram shape. He wanted the new structure positioned to maximise the remaining lawn area, allowing for a planned backyard cricket pitch and maybe someday, a swimming pool.
Council rules for Dave's site dictated that the building needed to be 1000mm from the boundary fence. Dave's building surveyor suggested that he could apply for a dispensation to be 150mm from the boundary, or even bang-on the boundary, providing he obtained written approval from the neighbours, which he did.
Being permitted to get around the 1000mm minimum carried conditions, however. The boundary-side wall could not contain any windows and had to be fire-proofed with a product such as Gyprock Fyrchek™ installed under the cladding. Backyard Pods was advised of these special requirements in plenty of time to arrange for the Fyrchek to be installed (by the builder) as instructed and extra-long fastenings were provided as part of our customer service.
Dave shared the original drawings by his draftsperson, and as we can see from his completed photos, the double French doors and veranda were added to the finished structure. These finishing touches came about once the compliant positioning of the Backyard Pod had been settled with the assistance of the building surveyor in consultation with Dave's builder.
With a fully approved backyard room including powder room, the value of Dave's house was officially enhanced by the addition of a detached home extension that could be used for living space if needed in future (eg: as an extra bedroom), whereas an exempt shed-type building could only ever be a shed.
Ready for Dave, his family, and their friends to enjoy together
Dave's order was placed on 17 July 2018 and delivered on 24 August 2018. Dave's 'Ultimate Man-Cave Pod' was erected and completely fitted out by 14 November 2018, just in time for his backyard summer BBQs and cricket match after-parties with friends from around the neighbourhood.
Dave officially opened his man-cave by joking: "Happy wife, happy life! I'm stoked to be chilling out here with my mates and still happily married." We think his pinball machines and neon lights look pretty cool too.
If you need more room at your house for a teenage retreat or space to enjoy your own big-kid toys, ask us about getting a prefab or flat-pack man-cave pod like this one or made to your own unique design.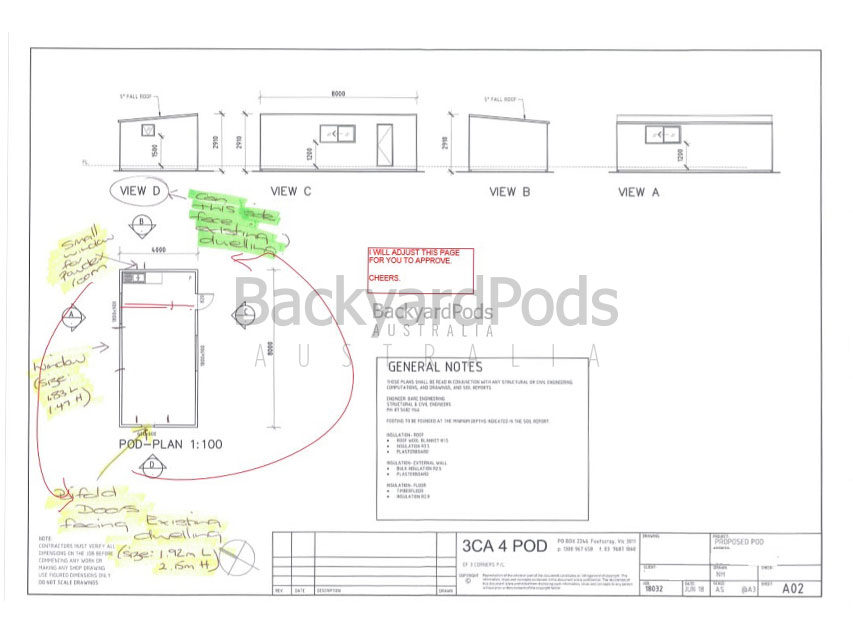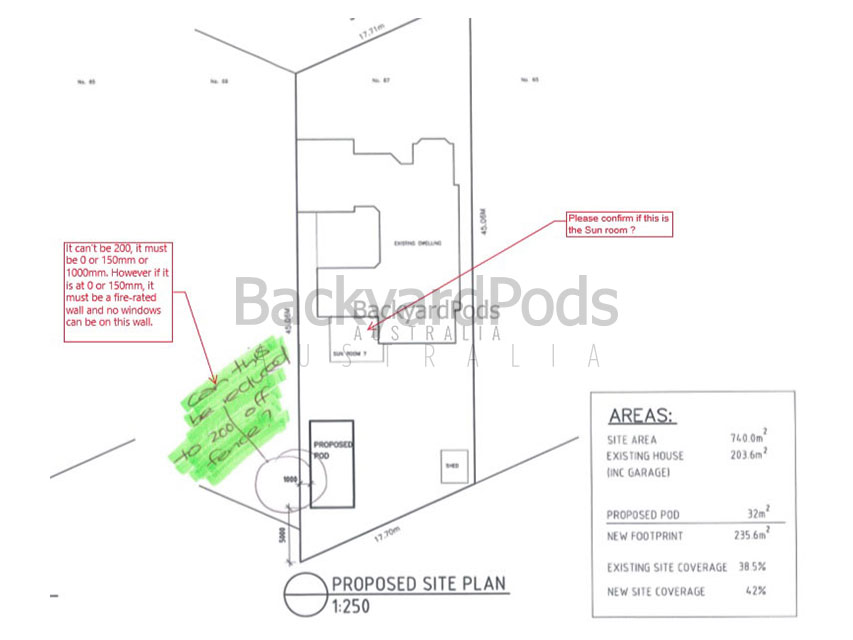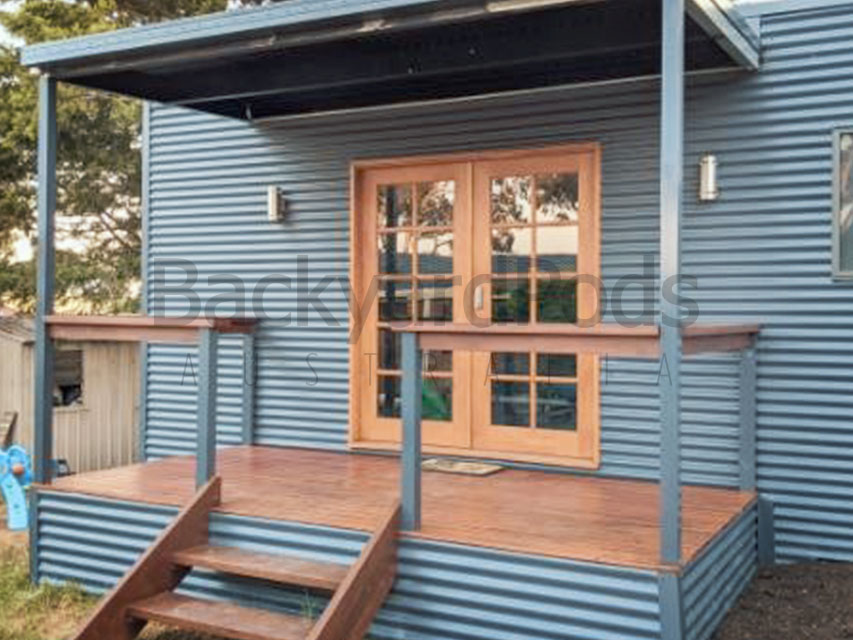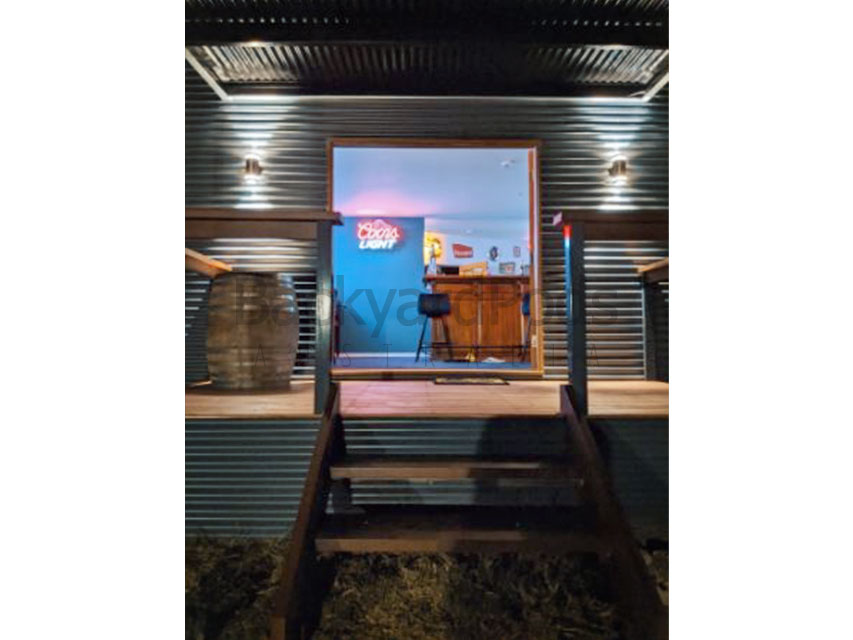 4m x 8m Basic Backyard Pod Kit on Piers
2m x 4m Veranda/Deck Kit (timber decking, steps, and hand-rails not included)
Colour: ColorBond® Ironstone
Openings: customer provided own windows and door (sourced locally) – $$ Unknown
Excavation and foundation works approx.
Installation to lock-up stage approx.
** Cost of internal lining, painting, lighting, electrical, plumbing connections, floor coverings, and fit-out – unknown
** Cost of draftsperson (plans for construction and approvals), consultant (surveyor), and approvals – unknown
IMPORTANT NOTE:
Any project of this kind will require some form of compliance and approval process, depending on which area you live in and what rules may apply. Do not attempt to complete any building project on your property without first checking with your local council and/or getting professional advice that's specific to your site, budget, and intended purposes. You can get help at low cost from professionals with years of experience in backyard pod constructions – just ask us.