Dave's wife gave him an ultimatum: "Get your pinball machines out of the house or else!" So, Dave embarked on finding a way to enjoy his vintage amusements with his mates and kids, without disrupting the household, which led him to Backyard Pods to build his ultimate 'man-cave' shed.
Dave explored several options, such as getting a shed on a concrete slab, and even a shipping container. However, access to the backyard was limited. Without using a costly large crane to hoist a container over the top of the house, the only other access was through a single 2-way garage (see site plan below). Dave soon decided that using a flat-pack modular building kit was the most logical and economical choice, as each piece could be carried one-by-one through the 2-way garage into the backyard. Dave joked, "I'll just put on a slab and a few snags and my mates will knock it over in an hour or less."
Along with housing Dave's pinball machines and neon light collection, Dave wanted his man-cave shed to have a well-stocked bar, basic powder room (toilet and basin), plenty of floor space and large double French doors opening onto a veranda. He paced it all out and soon established that a 4m x 8m Backyard Pod Kit with a 2m x 4m Veranda/Deck Kit was the way to go. Dave's design idea was to be 'quintessentially Australian' with some rustic timber charm.
The next consideration for Dave was planning the position in the yard, his block of land being an unusual parallelogram shape. He wanted to place the new structure in such a way as to maximise the remaining lawn area, allowing for a planned backyard cricket pitch and maybe someday, a swimming pool.
Local council by-laws dictate that the building needed to be 1000mm from the boundary fence, Dave's building surveyor suggested that he could apply for a dispensation to be 150mm from the boundary or even bang-on the boundary with written approval from the neighbours.
Exceeding the 1000mm requirement carried some rulings however. The boundary-side wall could not contain any windows and must be fire-proofed with a product such as Gyprock Fyrchek™ installed under the cladding. This was communicated to Backyard Pods and we made provisions for the Fyrchek to be installed (by the builder) on the wall and provided extra long fastenings at no additional cost.
Dave shared the original drawings by his draughtsman, and as we can see from the completed photos, the double French doors and veranda were added to the finished structure. This came about once the Backyard Pod location had been settled on with the assistance of the building surveyor and after consultation with Dave's builder.
Dave's order was placed on the 17 July 2018 and delivered on 24 August 2018. Dave's builder had erected and completely fitted out the 'Ultimate Man-Cave Pod' by 14 November 2018, just in time for the backyard summer BBQ's and neighbourhood cricket matches.
Dave wrapped it up by saying: "Happy wife, happy life! I'm stoked to be chilling out here with my mates and still happily married." We think his pinball machines and neon lights look pretty cool too.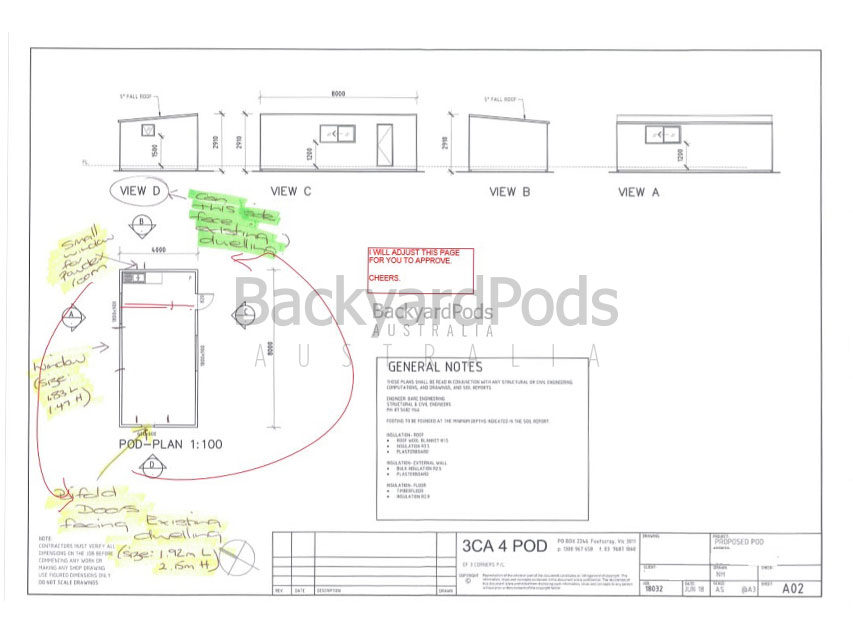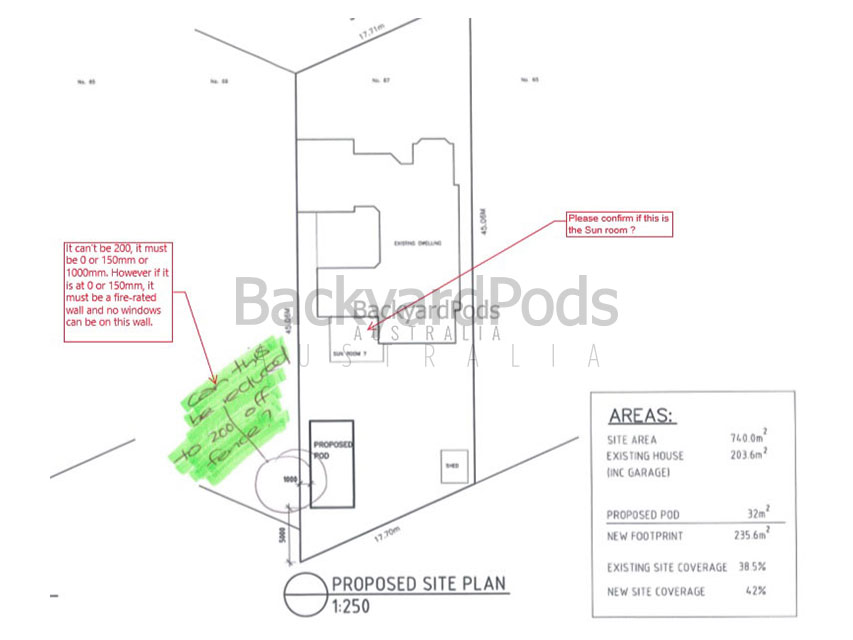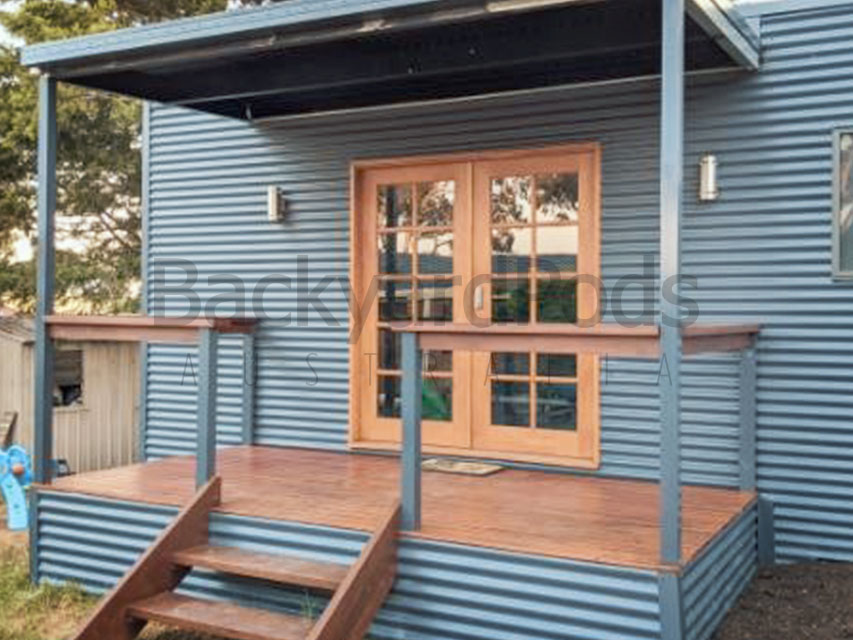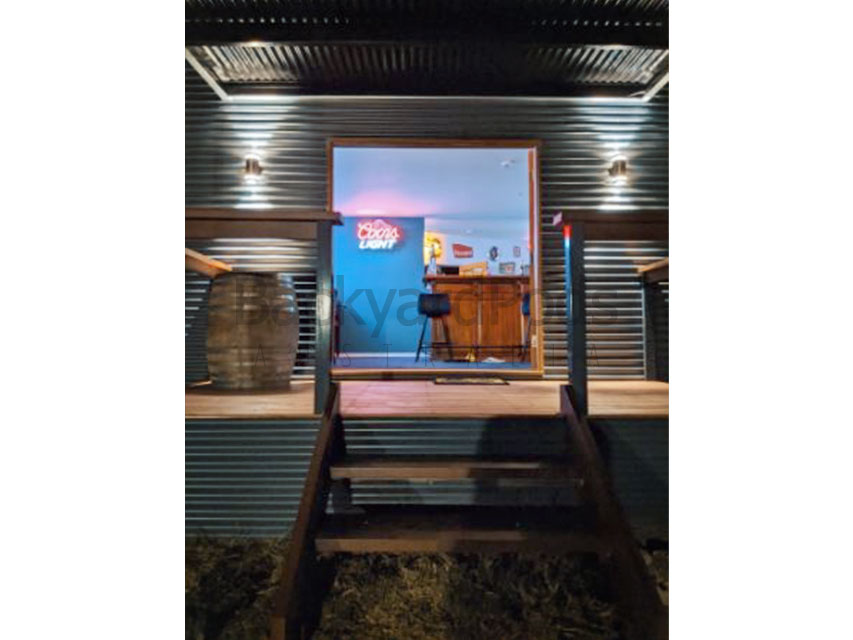 4m x 8m Basic Backyard Pod Kit on Piers
2m x 4m Veranda/Deck Kit (timber decking, steps, and hand-rails not included)
Colour: ColorBond® Ironstone
Openings: customer provided own windows and door (sourced locally) – $$ Unknown
Excavation and foundation works approx.
Installation to lock-up stage approx.
** Internal lining, painting, lighting, electrical, plumbing connections, floor coverings and fit-out – TBA
IMPORTANT NOTE:
Any project of this kind will require some form of compliance and approval process, depending on which area you live in and what rules may apply. Do not attempt to complete any building project on your property without first checking with your local council and/or getting professional advice that's specific to your site, budget, and intended purposes.