The term 'granny flat' shouldn't deter anyone from enjoying the privacy and security of a modern-day garden apartment on the family property, even where N4 wind rating is needed. This spacious, stylish 'man-pad' is the home of someone who returned from serving overseas in the defence forces.
The goal was to create a 1-bedroom fully self-contained apartment-home (without calling it a "granny flat"). The occupant's wish-list included a large master bedroom with 2-way ensuite/bathroom and walk-in wardrobe, as well as a large open plan kitchen, dining area and lounge room, with a concealed Euro-style laundry. The bedroom and living areas would have large glass doors opening out onto a deck area. There also had to be space for the occupant's Golden Retriever, his 'best friend' that also likes to hang-out indoors.
With a little financial assistance from the government, as available under some existing schemes, the owner proceeded to get DA approval and a building permit from the Blue Mountains City Council. Backyard Pods are a Class 1 building with standard N3 wind rating, however, it was discovered that the Blue Mountains region now requires N4 wind rating. Using the engineering documents provided by Backyard Pods on receipt of a deposit, the owner approached local engineers (ALJ Consulting Engineers) who proceeded to specify additional bracing on the existing plan, successfully achieving the required N4 rating to satisfy council.
When Backyard Pods received the specification from ALJ Consulting Engineers, a custom quote was required to cover the reinforcing and extra bracing required to meet N4. Within just six hours, the custom upgrade was approved and quoted at an additional $1,650. As a result, Backyard Pods has further streamlined this process and N4 wind rating upgrades are now available as a standard upgrade option at $750 per 18m2.
The finished project satisfies all of the occupant's needs and wants for his fully self-contained 'garden apartment'. With contemporary choices in wall colours and trims, the result is very modern-looking yet still blends beautifully into the Blue Mountains backyard environment.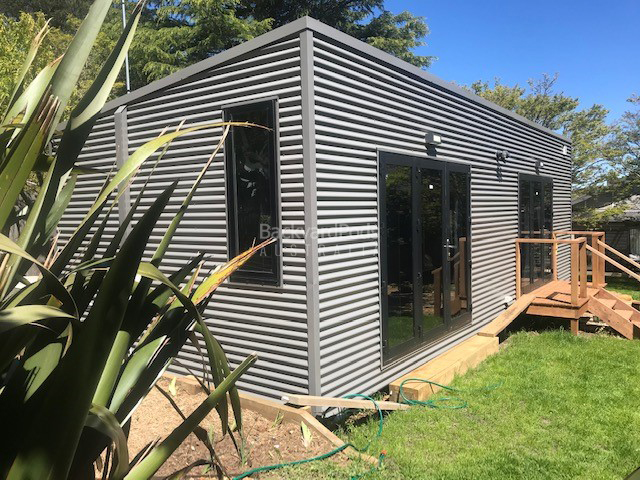 4m x 10m Basic Backyard Pod Kit on Piers
Extra engineering reinforcement to achieve N4 rating
Window/Doors Support lintels 10LM
Colour: ColorBond® Wallaby
Openings: 2 of 2040 x 820 Glass Door, 1 of 900 x 1800 Window, 1 of 900 x 1500 Window and 1 of 600 x 600 Window – customer provided own windows and door (sourced locally) – $$ Unknown
Excavation and foundation works approx.
Installation to lock-up stage approx.
** Internal lining (Gyprock), painting, lighting, electrical, plumbing connections, floor coverings and fit out – TBA
Installation was carried out by Neville of http://www.njandspinch.com.au/
IMPORTANT NOTE:
Any project of this kind will require some form of compliance and approval process, depending on which area you live in and what rules may apply. Do not attempt to complete any building project on your property without first checking with your local council and/or getting professional advice that's specific to your site, budget, and intended purposes.