Brad and Kirsten needed a chill-out rumpus room for the kids, a late-night media room for watching footy and Netflix, and somewhere private for guests to stay. However, their compact backyard was mostly taken up by their swimming pool. They had a lightbulb moment… "We need a pool house!" This would be a multi-purpose space where they could relax and entertain by the pool – with all the cool comforts like air-conditioning, shower, toilet, dishwasher, sofa, and surround-sound TV/media setup. Their tight poolside site was difficult to access and budget was also a big consideration, but once they'd made their minds up, they didn't want to wait.
Considering all the options available, Brad and Kirsten settled on a Backyard Pod as the ideal solution. The challenge was to fit a structure into the side space next to their pool between a neighboring retaining wall. Brad and Kirsten settled on a 3m x 9m Backyard Pod with Eaves, designing the interior to suit their lifestyle and the exterior for the cool, uncluttered look they wanted to achieve.
The exterior of the 'pool house' features our genuine Colorbond corrugated cladding in a very striking Surf Mist, matching the main residence trims and the veranda extending from the house. A must-have for the Pod was the additional eaves to keep it cooler in the scorching Queensland summer heat and reduce energy costs as required by governing bodies. The pool house also features sliding doors, three windows, and a skylight, allowing plenty of natural light to brighten the space. It is spacious inside, with its own bathroom and a sofa bed to accommodate occasional overnight guests.
The Backyard Pod kit was delivered flat-packed to their home, at low cost. Once unstrapped, the materials were easily carried through the side gate piece-by-piece and assembled on-site with the easy-to-follow instructions.
Cleverly for Brad, rather than taking on a DIY project, he used the few weeks waiting for his Backyard Pod to be manufactured to embark on an owner-builder course so he could engage his own handyman, and other trades such as a licensed electrician, plumber, and plasterer. This way, Brad was able to pay hourly rates for tradespeople, instead of a fixed per-metre rate, and negotiate deals along the way – saving thousands of dollars in the usual project management and fixed-quote costs.
This being said, plenty of people have been able to build their own Backyard Pod as a DIY project, often with little building experience. Many people also choose to have their Backyard Pod completed by a licensed builder, if they're happy with the additional cost of having the entire project taken care of for them. Most people like Brad, with the ability to work from home, decide to become owner-builders themselves for the purpose of the project and engage tradespeople to complete the job, ensuring attention to detail and budget control.
The project was completed on time and exceeded budget slightly by $4,600.00, but the results are fantastic, greater than originally envisaged. The silver lining to this happy story is that the addition to the property has increased its value by approx. $65K according to LJ Hooker in Robina (local real estate agency). Brad and Kristy can't wait for all the joy it will bring to their family and friends this summer!
Note from Brett (Backyard Pods – Sales & Solutions Consultant)
Given the compact block and high density of the Reedy Creek suburb, when Brad and Kirsty first approached me, my advice was to connect with one of our professional contacts for some 'Preliminary Advice'  before heading into the City of the Gold Coast Council. This could save months of going back and forth with the council. The professional explored (through council) 3 options: 1: secondary or habitable dwelling this got the 'Red Light' (NO), 2: Pool House or Cabana got an 'Amber' (Maybe) but would take some work, then came 3: an extension which got the 'Green Light' with some added conditions, such as achieving a 6-star energy efficiency rating and connecting the additional structure to the house by extending the existing veranda as a breezeway. These amendments did cost a little extra to achieve, such as $2,800.00 for the Energy Rating certificate, and extending the veranda to connect was another $1,800.00. But for Brad and Karen, there was no going back once the ball was rolling. It certainly proved worth it financially in the end, however. Brad and Karen verified that they had substantially increased the value of their property, through an LJ Hooker property value appraisal, just to put their minds at ease.
"I'm so delighted to be part of this journey with Brad, Kirsty, and their family. Living on the Gold Coast myself, I had the opportunity to visit their home and check out the progress of their Backyard Pod project. I learned a lot through their experiences and have not seen in Surf Mist, a very light and bright option for Colorbond, used so effectively before. The eaves just 'give it wings'… albeit they are there to serve a purpose: to achieve the high energy-efficiency rating as required in Queensland. The eaves also add individuality and some architectural appeal." – Brett.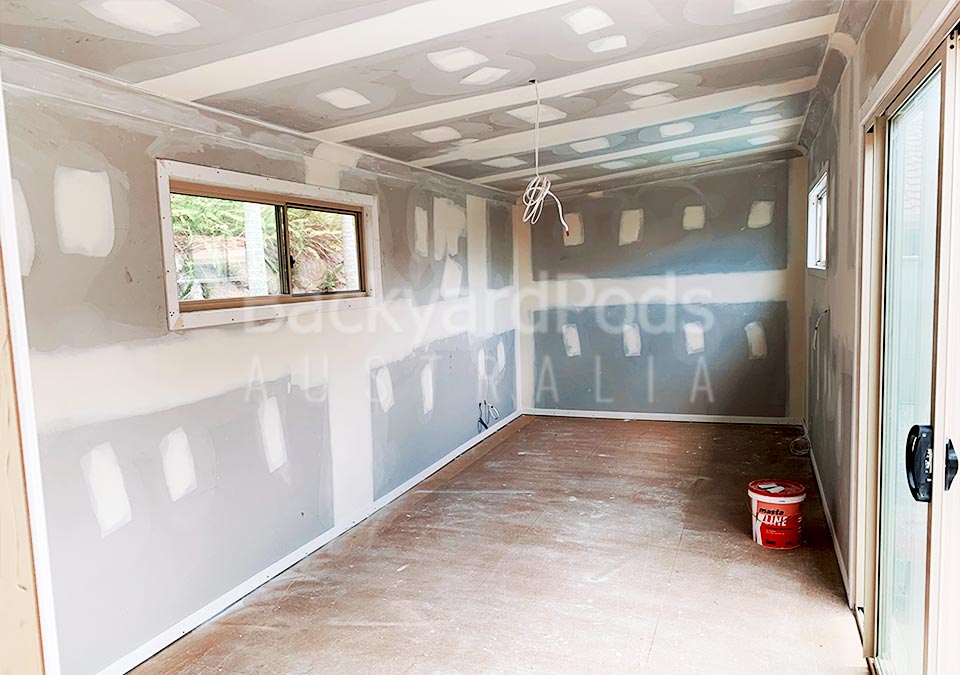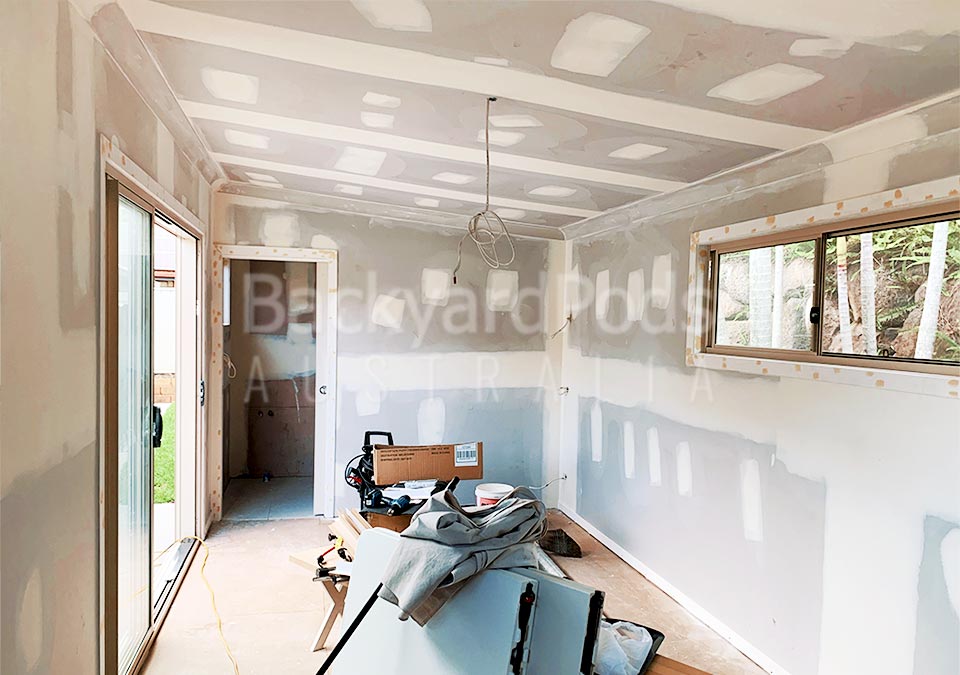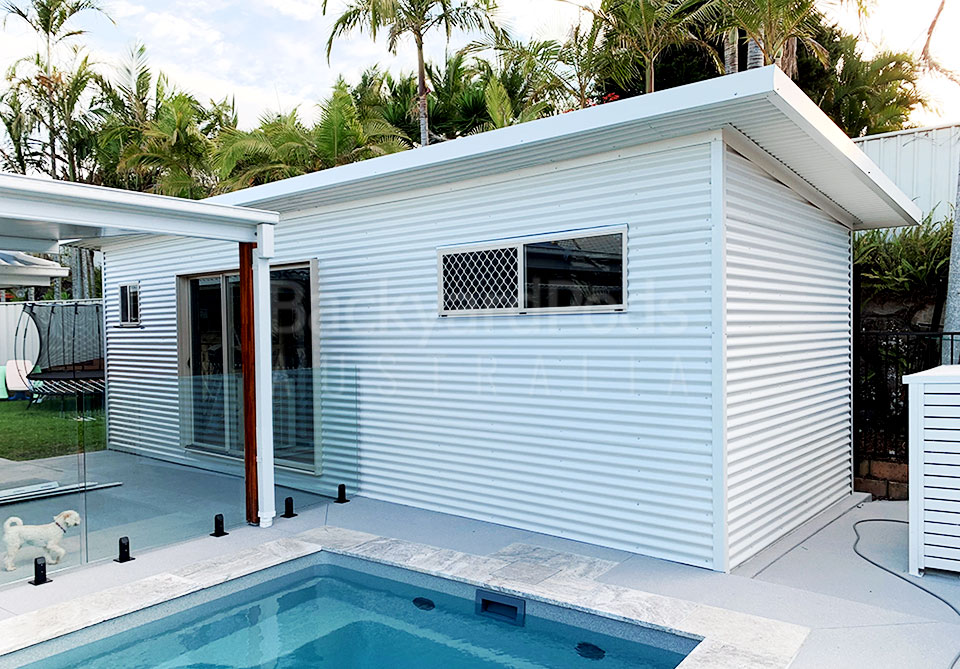 3m x 9m Basic Backyard Pod Kit on Piers
Colour: ColorBond® Surf Mist
approx. $3,700 with delivery
Excavation and foundation work approx.
Installation to lock-up stage approx.
Internal lining, painting, lighting, electrical, plumbing connections, floor coverings, and fit-out
Council approval, plans, and energy certification
IMPORTANT NOTE:
Any project of this kind will require some form of compliance and approval process, depending on which area you live in and what rules may apply. Do not attempt to complete any building project on your property without first checking with your local council and/or getting professional advice that's specific to your site, budget, and intended purposes