Get-togethers have become more challenging but our Backyard Pods founder, Mel, managed to hold a mini-summit on the Gold Coast with the Backyard Pods sales team and our associate licensed builder from Melbourne, Renato, in between lockdowns and border closures. High on the agenda was offering a fitted-out, ready to occupy Granny Flat package deal for the greater Melbourne region, which Renato would be able to facilitate. The Melbourne area was mapped out for flat-rate pricing – and now Renato is an official Granny Flat builder in Melbourne.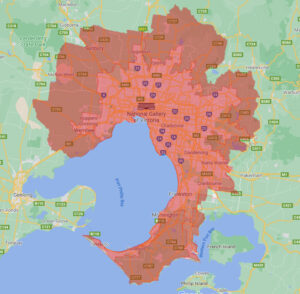 For more than three years, Backyard Pods has been delivering all-genuine Bluescope TrueCore steel and ColorBond Granny Flat kits across the greater Melbourne region. But now the rules for granny flats in Victoria are changing to make it easier for people in Melbourne areas to have granny flats.
As a licensed builder, Renato can offer customers a choice of completion stages for their granny flat project. Granny flats can be constructed to lock-up stage only, which includes the flooring and door/windows, but allows customers to save by doing the interior fit-out for themselves as a DIY project. Granny flats can also be completed fitted-out, ready for occupation by extended family, rental to a tenant, or commercialisation as an Airbnb cabin.
While in our Gold Coast offices, Renato was able to join our daily early-morning logistics meeting and get to know the whole team. Zander, working behind the scenes in customer service (pictured), explained to Renato: "My job is like an air traffic controller. It's as if we're landing jumbo jets in people's driveways or backyards with our deliveries. We're organising crane-trucks and tons of building materials across varying distances, so we have to get it right." Renato quickly learned that all Backyard Pod deliveries to Victoria involve staff working diligently to provide streamlined coordination and clear communication.
Backyard Pods founder, Mel (pictured above with Renato) said after the mini-summit: "It's great to welcome Renato into our network as a granny flat builder in Melbourne. Before COVID, I was spending about one-third of my time in Melbourne, one-third in Sydney or Newcastle, and one-third on the Gold coast, to give adequate attention to our associates in major areas. Although it's harder for me to fly in-and-out of Melbourne for the time being, the Backyard Pods agenda for leadership in granny flats Melbourne is still going strong and we get even more people wanting to build a granny flat in their Melbourne backyard than we did before."