Sharon's elderly mother had a final wish – that her daughter would have a place to call her own. It followed for Sharon to build a low-cost granny flat on her son's property at Mount Tamborine on Queensland's Gold Coast.
When creating her 'forever home', Sharon did lots of research on kit homes and granny flats, all the conventional and alternative-style options.
Read on to find out how Sharon and her son are creating her picturesque living space with repurposed items and the super-quick and sturdy construction of a Backyard Pod with engineering certification Class 1 (suitable for a dwelling).
Background
Sharon tried and considered a few backyard space options before realising a Backyard Pod would be the best solution for her. She bought and then resold two different kinds of dwellings before realising a Backyard Pod would be easier to put up, and, could also to be customised.
"I looked at shipping containers, but parked that idea as it was too costly to customise, then I purchased a used 'donger' that came from a mine at Gladstone, but they ended up not being able to get it up the driveway at my son's place."
Ultimately, the hilly forested terrain at her son's Mount Tamborine property meant that a Backyard Pod was the best way to go. Not only does a Backyard Pod mean the dwelling is built from brand-name Australian steel framing and cladding, it means that Sharon could afford to include wish-list extras like a completely customised storage system built to the specific dimensions of her items.
Construction began with Sharon's son and his friends, Jacob and Adam of AJ Installations, working on the weekends.
"They were fantastic with doing the build – absolute machines!"
Despite much of the work being done only on weekends when Jacob and Adam had spare time, Sharon is surprised at how quickly her new home is taking shape.
"I reckon it would only have taken 3 months, beginning to end, if they were working on it full time, at the moment it looks like it will be finished in January 2020, which suits me just fine."
Sharon chose the 3.6m x 14m Basic Pod Kit in Colorbond 'Shale Grey', a soft light grey.
Construction
This forever home will feature an open plan kitchen, lounge, bedroom, study/guest room, and bathroom with integrated laundry. There is also a custom-designed patio to take advantage of the beautiful natural environment of Mount Tamborine.
Sharon is creating her home with the help of her son and his mates Jake and Adam of AJ Installations, and so, choosing to take the DIY path with her Backyard Pod.
Backyard Pod kits come with engineered drawings, instructions, and all the assembly fixings, as well as phone support if needed, so it's possible to do a successful DIY job with some handyperson skills, power tools and help with lifting (of course we can also connect you to licensed builders and installers in your area!).
Sharon's downsizer is built from a combination of brand-new materials and repurposed items. She has saved on the construction of her granny flat is by being thrifty with repurposed items and secondhand windows, yet her pod is built with strong structural steel and sturdy ColorBond cladding.
"I got repurposed door and windows from a salvage yard in Nerang; https://hinterland-new-and-used-building.business.site/. It was easy to find the size I wanted, and Jacob and Adam put it them in…Simple!"
When designing her Backyard Pod, it was clear that storage was an important factor to consider. Limited space can feel very roomy when items can be put away. We (me, Jake and Adam) all worked together in coming up with the designs for the kitchen, bathroom/laundry and wardrobe. The guys were very professional in coming up with recommendations and their workmanship and attention to detail was spot on.
"In a space like this, storage is so paramount"
Sharon's custom wardrobe involved measuring her Eskies and ensuring her wardrobe had a space to easily keep them in storage.  Eskies or other big essentials are the kind of thing its worth considering when making a storage plan in a new structure.
While Backyard Pods can help with storage solutions, it's easy to tailor your wardrobes to really make them your own. You can either customise yourself, or the team at Backyard Pods can connect you with professional assistance to find the best storage solution for you.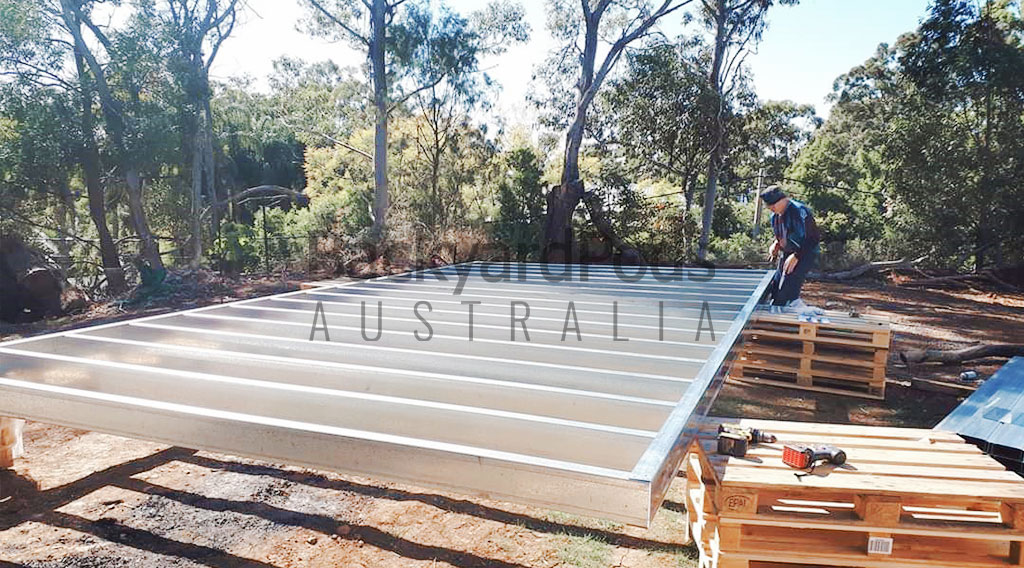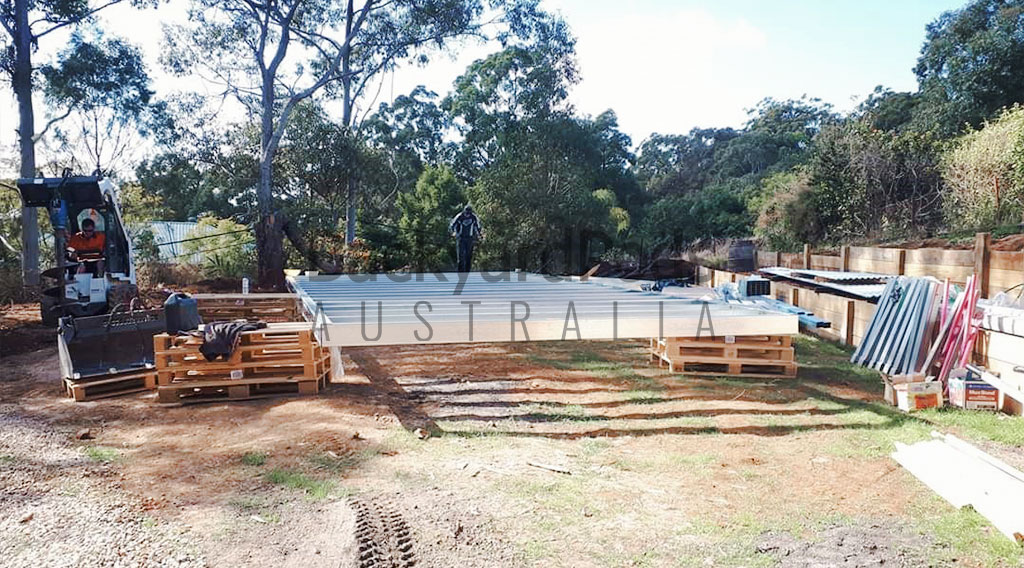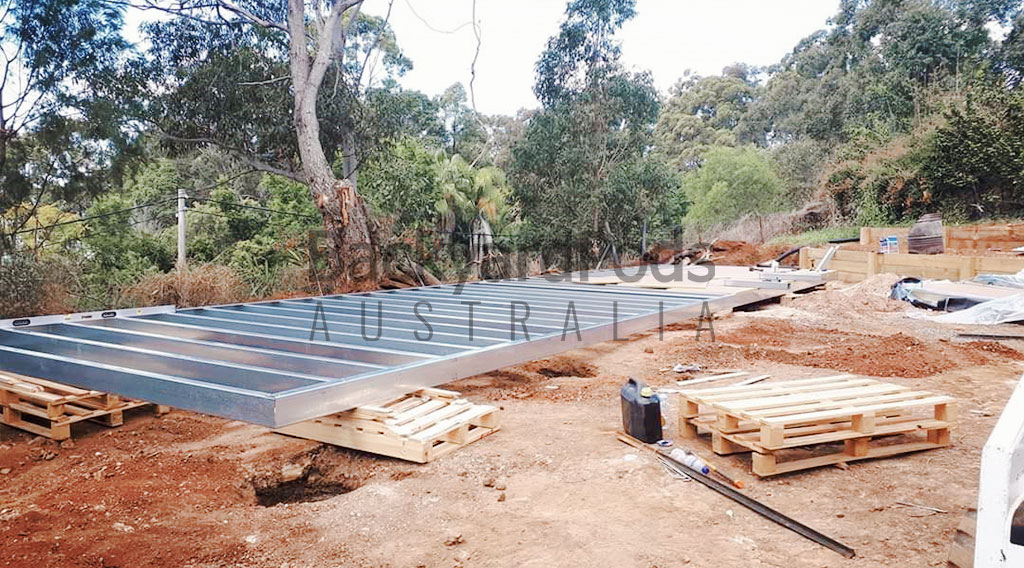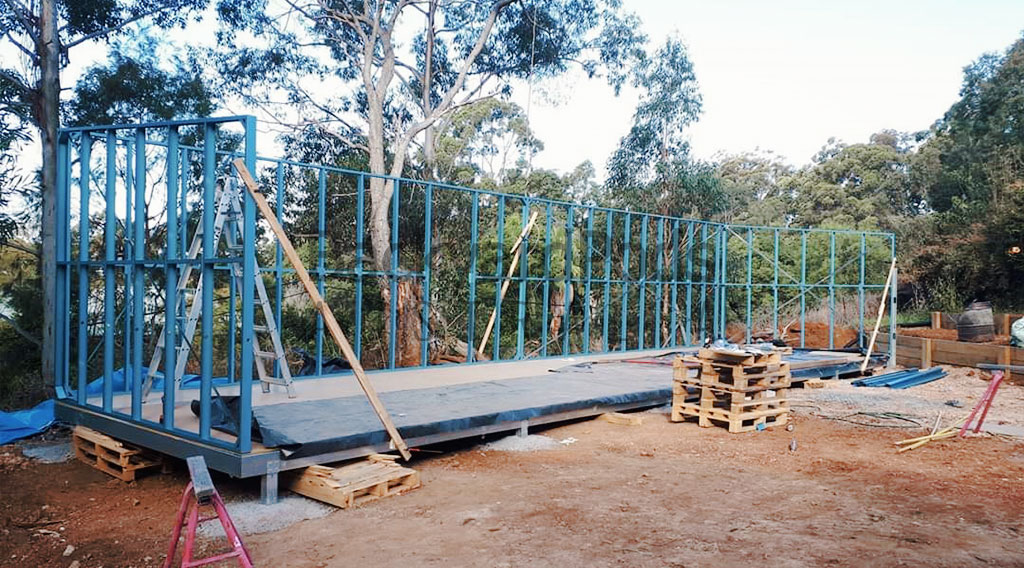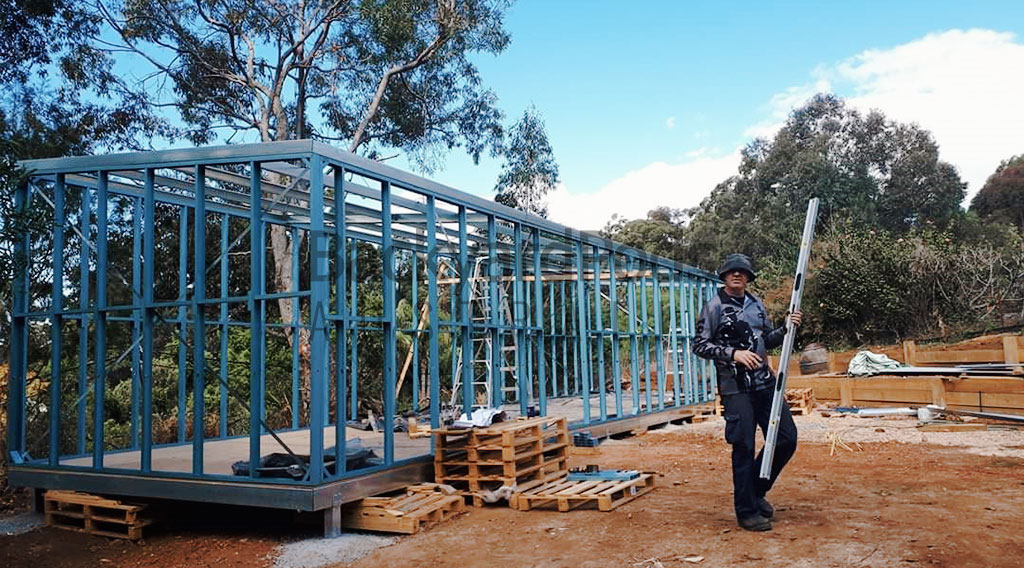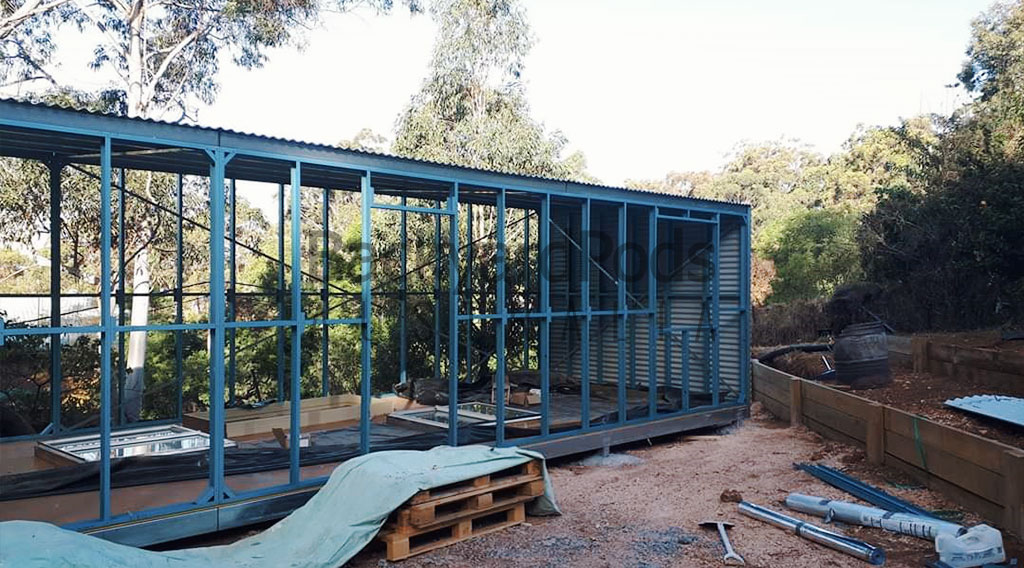 Summary
Sharon's low-cost granny flat with a backyard pod kit will soon be ready to welcome her, set in the lush nature of Mount Tamborine and close to her family. Even though the construction was only able to be done on some weekends, it's set to be ready in January 2020. What a great way to start the new year!
"It took about three months to get it to the lockup stage. Most probably if I wanted to go boom-boom-boom and get it finished fast, it could be in one and a half to two months."
Not only has the construction been timely, Sharon is super happy with how the budget on her low-cost granny flat has not included surprise extra costs (unlike construction projects in the past!).
"Budgets never go to plan, and they especially never go to plan on a building site, but this time has been not too far off."
Sharon is looking forward to moving into her new home, not only because a comfortable structure awaits her.
"I'm only going to be 20 minutes away from daughter and grandchildern – I want to get into get into cooking for them. I'm also looking forward to being able to go to the beach and I just love Mt Tamborine. It's so picturesque and has great botanical gardens."
This is what it's all about for us here at Backyard Pods – providing home solutions that improve people's quality of life.
When Sharon was asked what she would say to someone considered getting a Backyard Pod, she had just three words:
"Do it, definitely."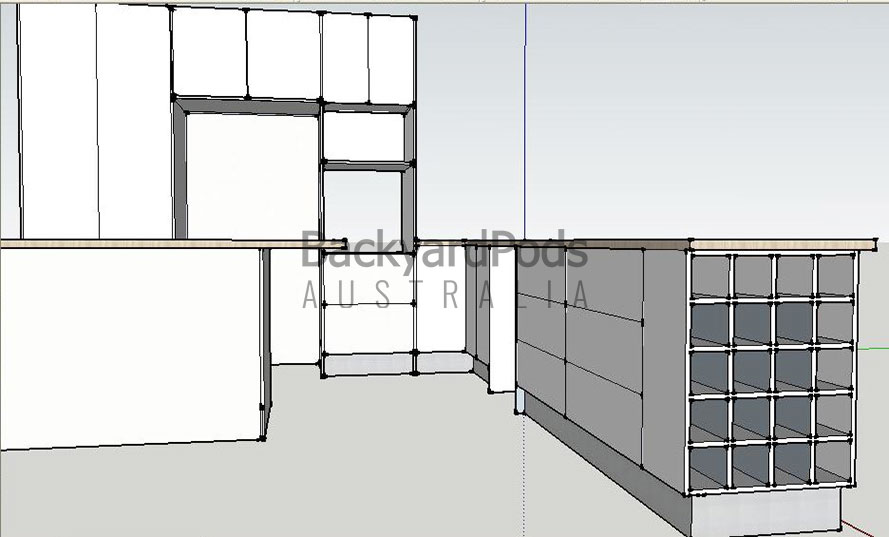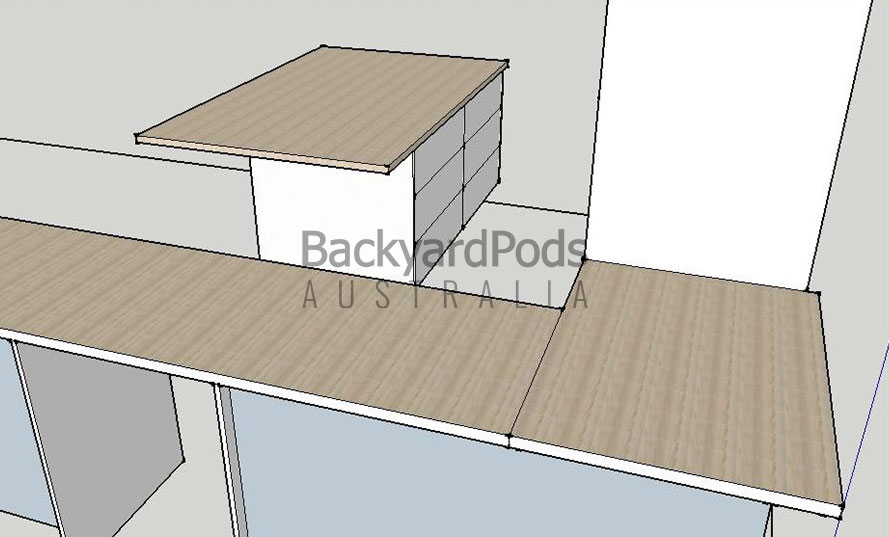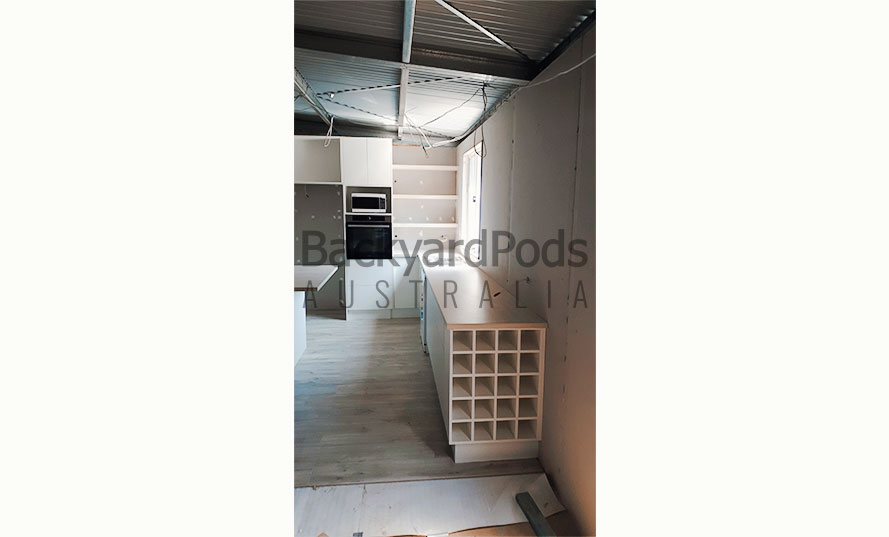 Custom 12 x 900mm Long Piers
Fit-out, cabinetry, floor, connections etc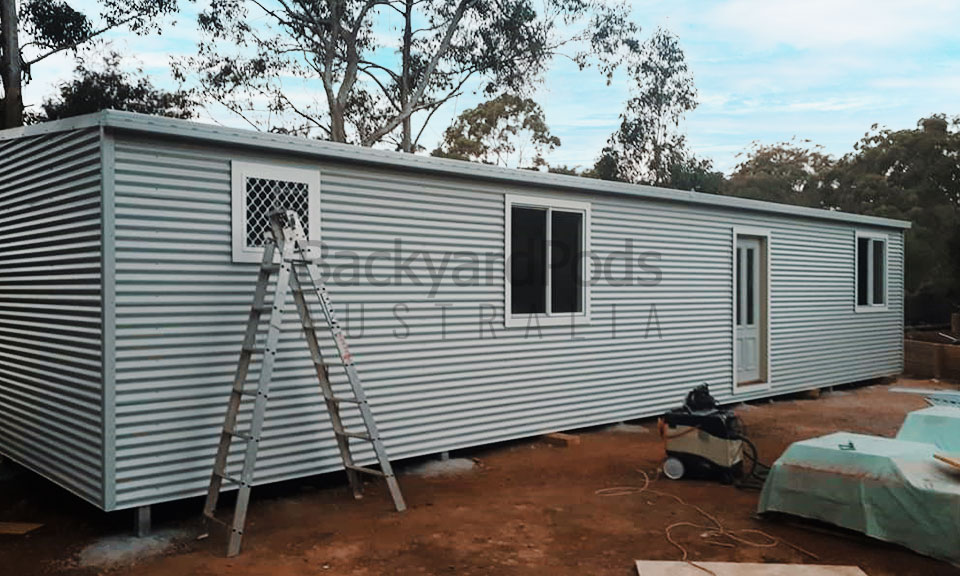 AJ Installations are now servicing Backyard Pods customers to lock-up stage or with the complete fit-out, turnkey solution. Contact us for an introduction.
Disclaimer:
Please note; that any project of this size and intended purpose will require some form of approval, which is not necessarily a hassle. We are happy to guide you in the right direction, find out more by clicking here >> https://www.backyardpods.com.au/about/approvals/