How much does it cost to build a granny flat in Melbourne now that granny flats are allowed in areas of VIC?
Some councils that don't permit granny flats for potential renting may allow a DPU (dependent person's unit) to be built on the property to accommodate a family member if certain structural and situational conditions are met.
A customer with a lovely home on Melbourne's desirable Mornington Peninsula purchased a 3m x 8m Backyard Pod kit with eaves to build a compliant DPU on the property so her mother could enjoy the rest of her years living close to family, rather than worrying about the prospect of moving into an aged care facility. Modelling from a design used successfully by previous customers, and allowing for wheelchair access, the customer and her Mum came up with a functional design that will suit their needs for years to come.
The design allowed for a high degree of independent living while satisfying the criteria for approval as a DPU. While the occupant was still sprightly and active for the time being, her DPU contained an ensuite, open-plan bedroom and living area with built-in wardrobe, and a compact kitchen. The 1.5m-wide veranda kit from Backyard Pods was customised with an extended deck and ramp to provide the required accessibility. Eaves included with the Backyard Pod kit enhanced the aesthetic appeal of the structure and offered some additional shade for windows and protection from weather. Extra insulation installed in the walls and ceiling would improve energy efficiency and year-round comfort.
Although the structure was simple and cost-effective, a contemporary and more architectural look was achieved by the choice of Colorbond Basalt external walls matched with black window frames and complemented by timber decking and soft landscaping. Smart styling of the Backyard Pod matters even more in areas like Mornington where maintaining and enhancing the value and appeal of the primary residence is an important consideration.
Installation was undertaken by the licensed builder introduced by Backyard Pods, Renato. The order for the Backyard Pods kit was placed on 22 May 2019 and delivered on 24 June 2019. The original design was collaboratively modified to optimise the interior functionality for the individual needs of the occupant.
Design for small granny flat in Melbourne 3m x 8m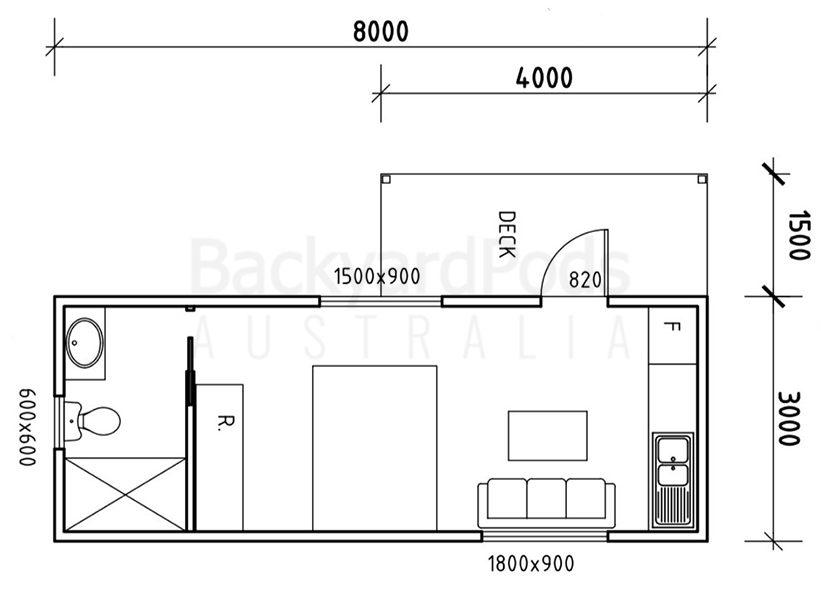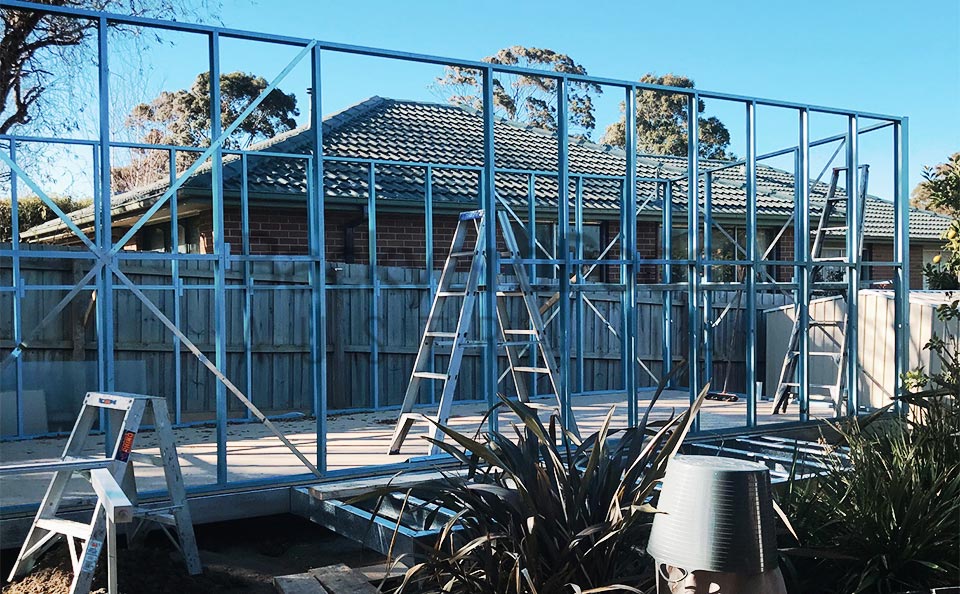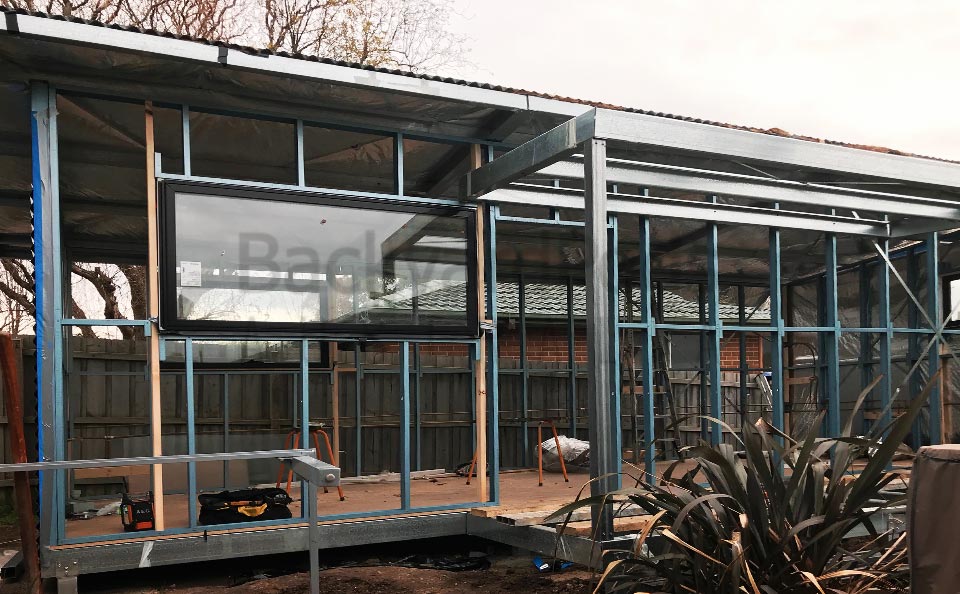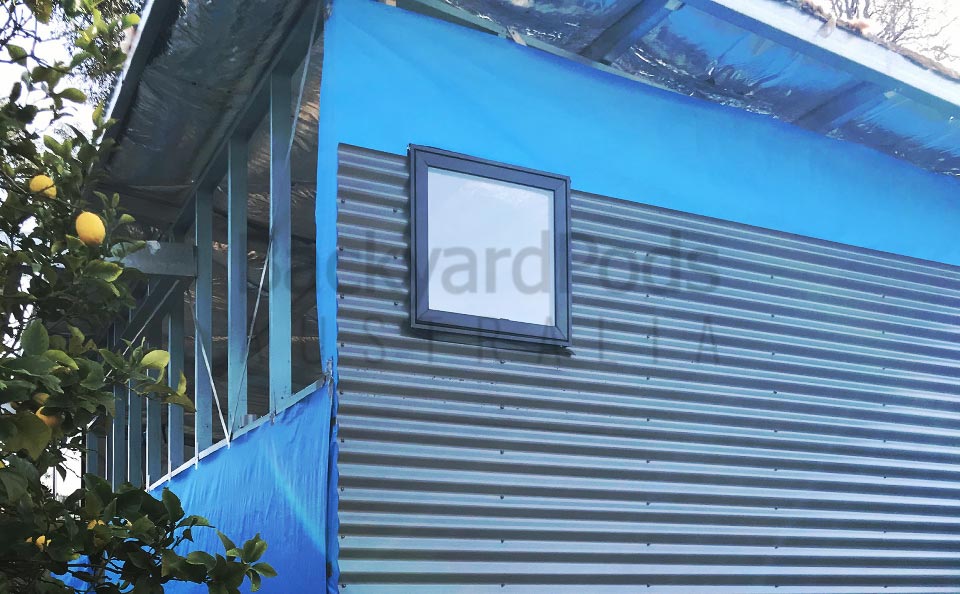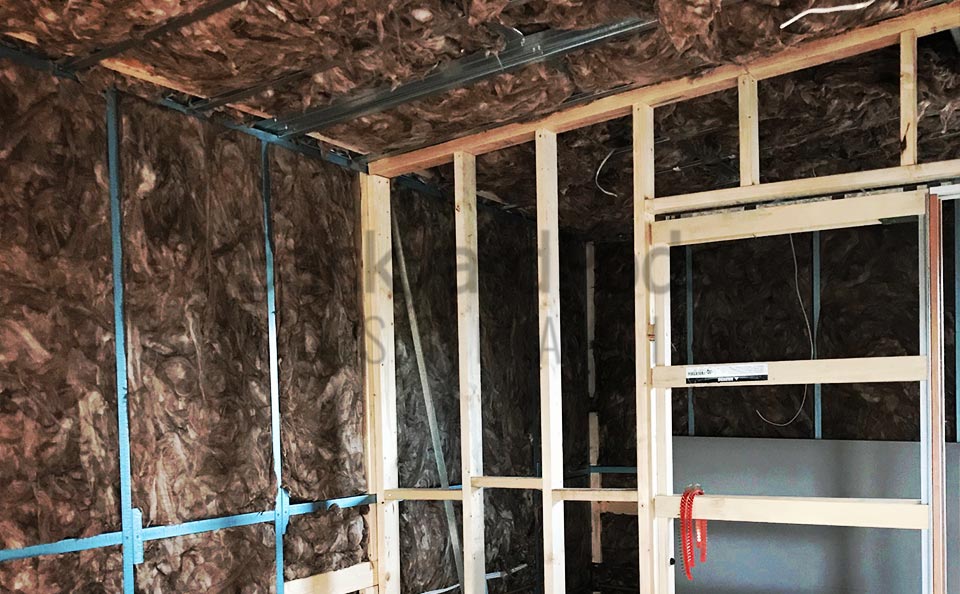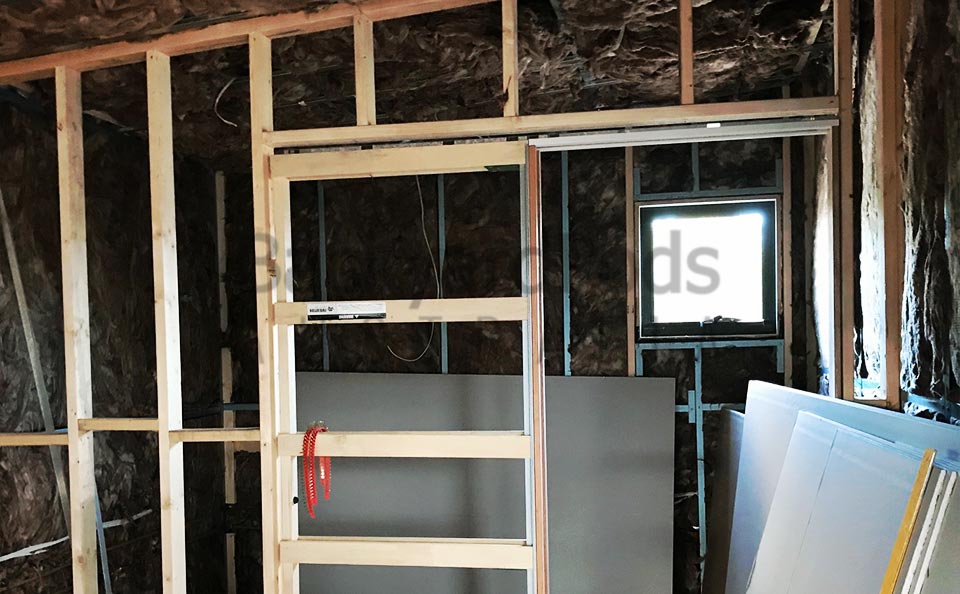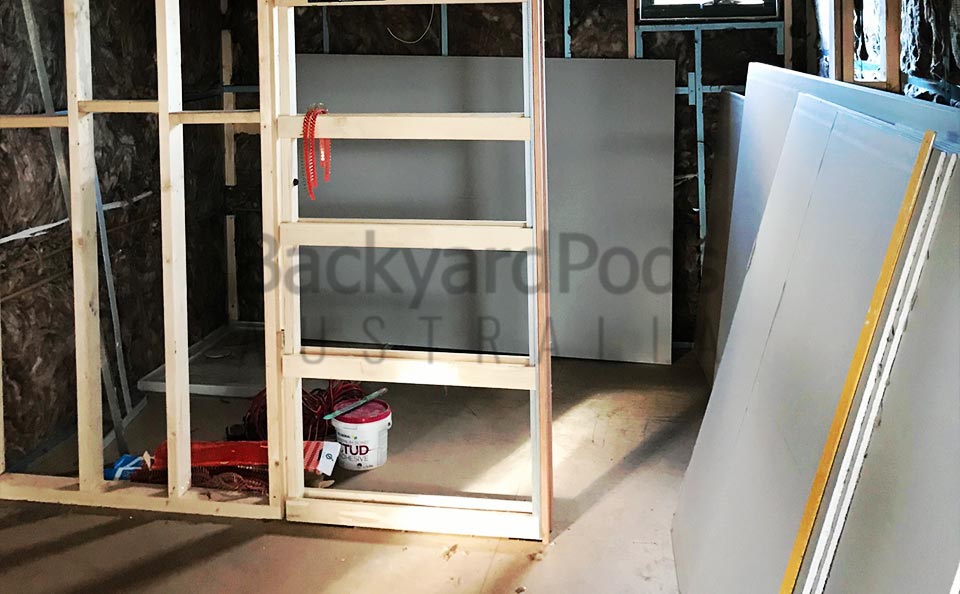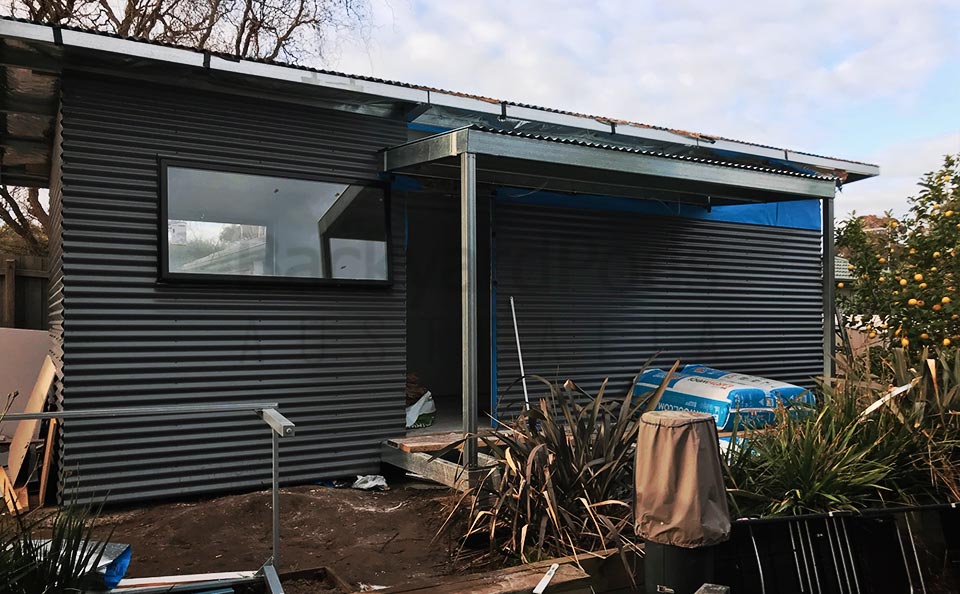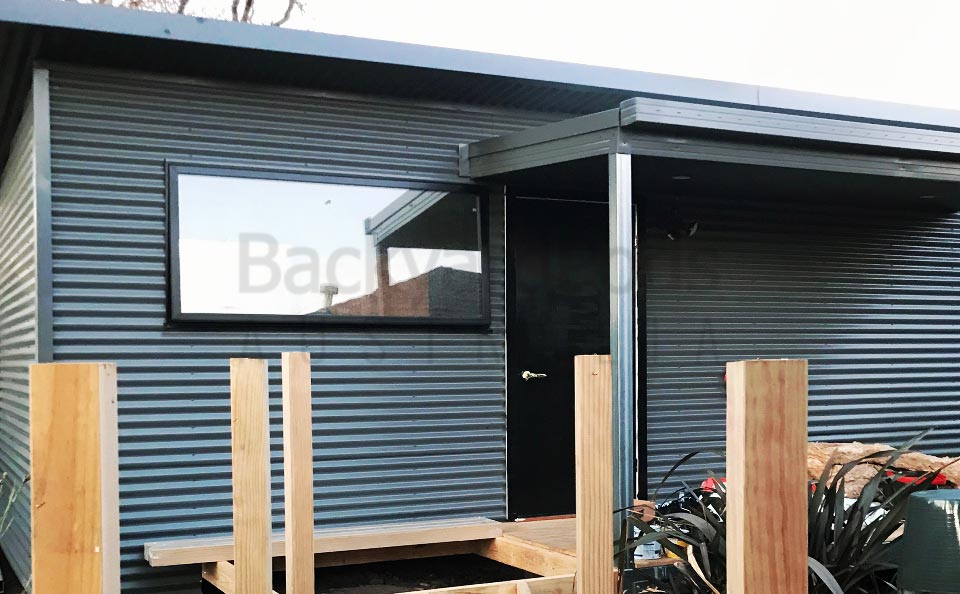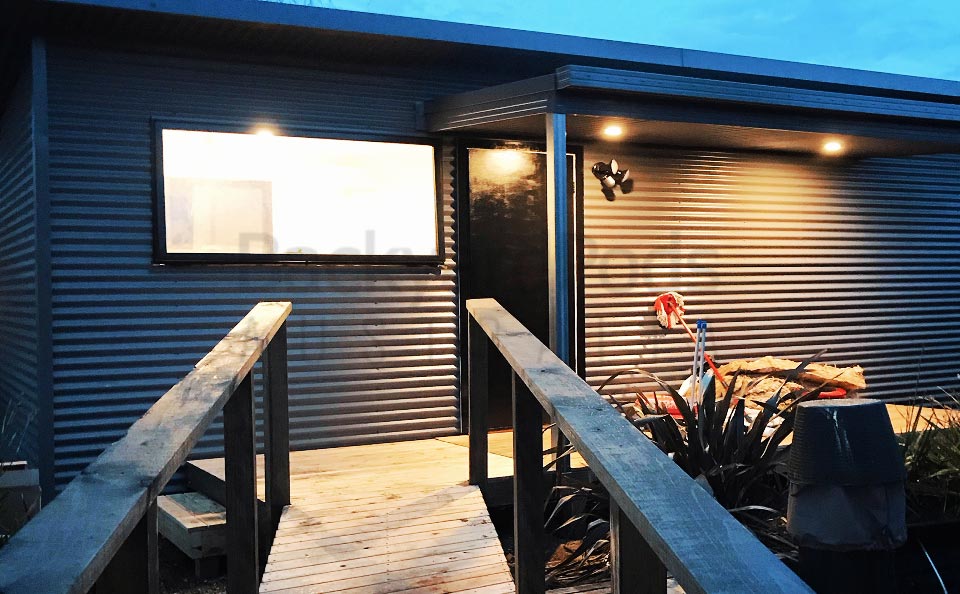 3m x 8m Pod Kit with Eaves on Piers
Window/Doors Support lintels 5LM
1.5m x 4m Veranda/Deck Frame Kit on Piers
Openings: 1 of 2040 x 820 Glass Door, 1 of 900 x 1800 Window, 1 of 900 x 1500 Window and 1 of 600 x 600 Window – Customer provided own windows and door (sourced locally).
Excavation and Foundations Approx.
Installation to Lock Up (with Eaves) Approx.
*Extra decking, garden boxing and disability access ramp were also added at additional cost.
** Internal Lining (Gyprock), painting, lighting, electricidal, plumbing connections, floor coverings and fit out – TBA
IMPORTANT NOTE:
Any project of this kind will require some form of compliance and approval process, depending on which area you live in and what rules may apply. Do not attempt to complete any building project on your property without first checking with your local council and/or getting professional advice that's specific to your site, budget, and intended purposes.