David and Mark have a beautiful property not far from Ballina in northern NSW, where they provide family respite accommodation. They had one respite cabin on the property, made from an upcycled mining donger (pre-used demountable building). But when the time came to create a second and even better cabin, their options were limited. Their property is nowhere near a capital city and the site is difficult for trucks to access, so any kind of prefab kit home would have been totally unsuitable. They needed a kit that could be delivered flat-packed to their property, at low cost, and assembled onsite with easy customisation to go with the aesthetic of their original revamped donger. Their search for the best solution in Australia to their flat-pack building kit needs eventually led them to Backyard Pods.
Getting into the details with Brett at Backyard Pods, David and Marked settled on a 3.6m x 13m Backyard Pod kit to allow for the design of their cabin which would have two bedrooms (main bedroom and smaller bedroom), one bathroom, and an open-plan kitchen, dining, and living area. They chose Colorbond® Jasper for the exterior walls and standard Zincalume for the roof.
Hundreds of people have successfully erected their own Backyard Pod kits (DIY) with nothing much more than their own amateur-level building experience, a few decent power tools, and the illustrations that come with the kit. On the other hand, many people choose to have their Backyard Pods completed by a licensed builder, who can take care of the entire project for them at additional cost. Most people simply decide to become owner-builders themselves for the purpose of the project and employ a small number of tradespeople to complete the job to their satisfaction (and with great savings).
David and Mark decided to take the DIY approach but still, their project would need council approval. Brett from Backyard Pods was able to facilitate the approval process by introducing David and Mark to some professionals who understand that Backyard Pods are a Class 1 structure (eg: suitable as a dwelling) and usually no hassle to get through the council approval process as a house, cabin, or granny flat providing that general rules pertaining to the property are met.
To fit visually with the existing donger, David and Mark chose to customise the facade of their Backyard Pod. There are many ways to personalise a Backyard Pod kit and give it your own style (eg: contemporary, coastal, rustic, retro, rural, etc). Any cosmetic modifications are okay as long as they don't affect the structural integrity of the Backyard Pod, which is specified in the certified engineering documents provided to all customers in the planning and approval stage.
David and Mark successfully completed their Backyard Pod project by doing most of the work themselves. Today, their new respite holiday cabin features modern interiors and comfortable areas for a family to enjoy. The spacious 3.6m x 13m structure provides enough space for a double bed in one bedroom and a bunk bed in the other, making it the perfect fit for a family. The inclusion of a nifty bathroom and cosy kitchen and living area gives families the privacy they need in respite and the economy and self-sufficiency of having self-contained accommodation.
Now that this exceptional holiday cabin project has been completed thanks to David and Mark, families can enjoy staying in comfortable, modern respite accommodation that's in a serene, green, creekside location. David and Mark are very much content with their choice of a Backyard Pod as the perfect 'blank canvas' of a building kit for them to create an excellent home-away-from-home for respite clients.
Our timeline: David and Mark ordered their Backyard Pod kit from Backyard Pods on 13th May 2019 with deposit, and the kit was successfully delivered to their site – a coastal hinterland property in northern-eastern NSW – on 25th June 2019.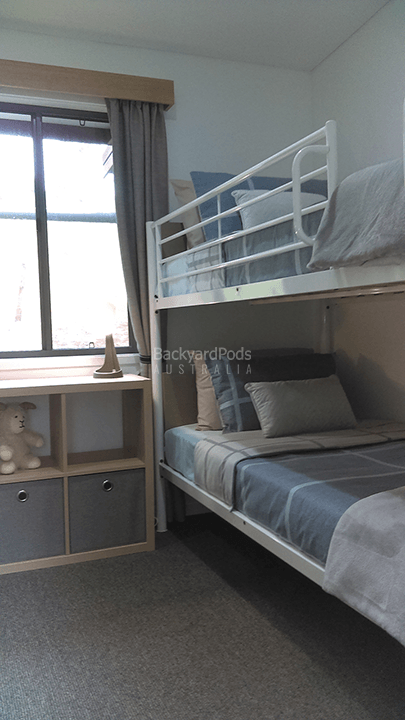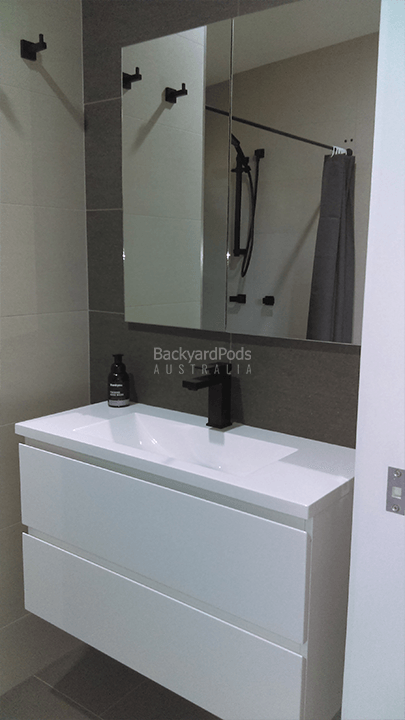 3.6m x 13m Backyard Pod kit in Colorbond® 'Jasper' with standard Zincalume® skillion roof plus 12x standard 600mm foundation piers
Delivery of flat-pack Backyard Pod kit via crane-truck to site address in Pearces Creek, NSW
To be sourced locally by home-owner or installer
If chosen from our range of energy-efficient, eco-friendly windows/doors now available to order through us, click-and-collect from your local distributor:
Entrance, Living & Kitchen
INSTALLATION TO LOCK-UP STAGE
We don't do installations – this estimate was provided to our customer by an independent local installer:
Excavate ground (other than rock or plant matter) for 12x holes for piers; place 12x foundation piers in concrete; assemble and install flooring system/flooring, walls, and roof; install windows/doors; enclosed/lockable structure.
ESTIMATED TOTAL COST TO LOCK-UP STAGE
Not including any variations to the original scope, nor the cost of drawings/fees in relation to regulatory compliance
$34,970.00 ($747 per sqm) approx.
Wall insulation; plasterboard lining of walls/ceiling; floating floorboards or floor coverings; partition dividing walls; internal doors; kitchenette cabinets and fittings; bathroom/laundry cabinets and fittings; built-in wardrobe; light fittings, internal wiring, power points; connection of plumbing and electricity; curtains/blinds – initial ballpark budget estimate $1,500 per sqm to completion ($70,200.00) + estimated 10% contingency.
ESTIMATED TOTAL BUDGET TO COMPLETION
$70,200.00 – $77,220.00 approx.
IMPORTANT NOTE:
Any project of this kind will require some form of compliance and approval process, depending on which area you live in and what rules may apply. Do not attempt to complete any building project on your property without first checking with your local council and/or getting professional advice that's specific to your site, budget, and intended purposes.