Our customer embarked on the renovation of her delightful duplex home located in Croydon NSW. She wanted to extend her existing home to accommodate a new bedroom with ensuite , where the old-style rear of the home could be gutted to make room for a more modern Australian-style kitchen and open-plan living area. After considering her budget, accessibility needs, and the desire for a fuss-free TrueCore® steel frame structure, a Backyard Pod a flatpack kit was the perfect solution. The pod kits could be used together as an L shaped wraparound style extension and provide a modern laundry and large bathroom fit-out, freeing up space inside the home for a kitchen with island bench and open plan living/dining.
As per the requirement for this type of project, our customer engaged a registered architect for the submission of her plans to the Inner West Council [Sydney], once her approvals were through, our customer ordered 2 flatpack kits on 13 July and received them on 20 August. The construction of the pod was then undertaken by a local builder (from Leichhardt), with the assistance of one of our most experienced Sydney-based installers.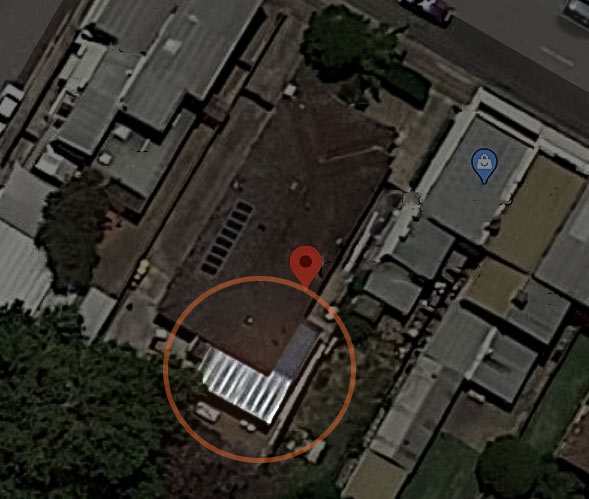 The bathroom extension was made from a 4m x 7m Basic backyard pod kit and the laundry extension was made from a 2.5m x 5m Basic backyard pod kit. They both used foundation piers as required for the house extension.
This is the first backyard pod that has used the newly released euro-style Bonville cladding. Our installer said: "The new Bonville cladding profile is a pleasure to work with, it just clicks together seamlessly, and the fact that the screws and fixings are all concealed makes the finish look so smooth and smart, almost like weatherboard." The Bonville profile cladding was the perfect choice as it looked quite striking in Colorbond™ Ironstone® against the contrasting rendered finish of the home.
Brett (Backyard Pods – Sales & Solutions Consultant) said "Our customer's choice of new timber frame and glass-paneled french doors are stunning. They complement the Colorbond Ironstone colour giving it character. Our customer sourced these from Doors Plus. They really suit the mid-century style of the home and bring the project together nicely".
Visible from Google Earth, our customer's brand new bathroom and laundry extension is just perfect and suits her house exceptionally well. A Backyard Pod is an ideal solution not just for people wanting an extra habitable building in their backyard, but anyone who needs to extend their main residence without too much hassle and expense.
IMPORTANT NOTE:
Any project of this kind will require some form of compliance and approval process, depending on which area you live in and what rules may apply. Do not attempt to complete any building project on your property without first checking with your local council and/or getting professional advice that's specific to your site, budget, and intended purposes